woman, holding (2020)
If the world before 2020 was not builtfor women, the future – ever-morecontrolled by algorithmic programmes– will be even less so. Adoption ofmachine-learning practices at their earlystages made them suitable for andusable by one segment of society only;white males with European features.Other groups were not considered, andthus not included in the data sets thattrained the algorithms.This work takes as its starting point,commercial facial analyses and image-labelling services which are 'trained'on data sets taken from social media,and explores the consequent biasthat comes with those data sets. Thus,women are often described as 'holding',implying that the data sets with whichthe algorithms trained see women ascarers.
Women looking straight into the camera as labelled as "sexy", whilea shirtless man posing seductively is labelled as "serious" and "fine-looking". A converse action, testin text-to-image algorithms "woman in front of a mirror" results in a semi-abstract blob that can be recognised a a posed selfie in underwear.We may think of algorithms as futuristic,or somehow neutral, but ultimately, theyhave been created by people who havetheir own biases and prejudices. So,by default, algorithms have learnt whattype of person "looked criminal" andwhat gender should be attributed to adefault doctor, lawyer and scientist.The 2020s seen from the future are aturning point for algorithmic inequality.This is the decade when the untamedgender data gap led to women'salgorithmic invisibility.

Steel, plastic, epoxy, printed image,wax, electronics,tablets, thread, fabric.
190cm x 260cm x 60cm

Full Work - 2500 €


woman, holding (2020)
Photo Elisa von Brockdorff
Everyone agrees with you (2019)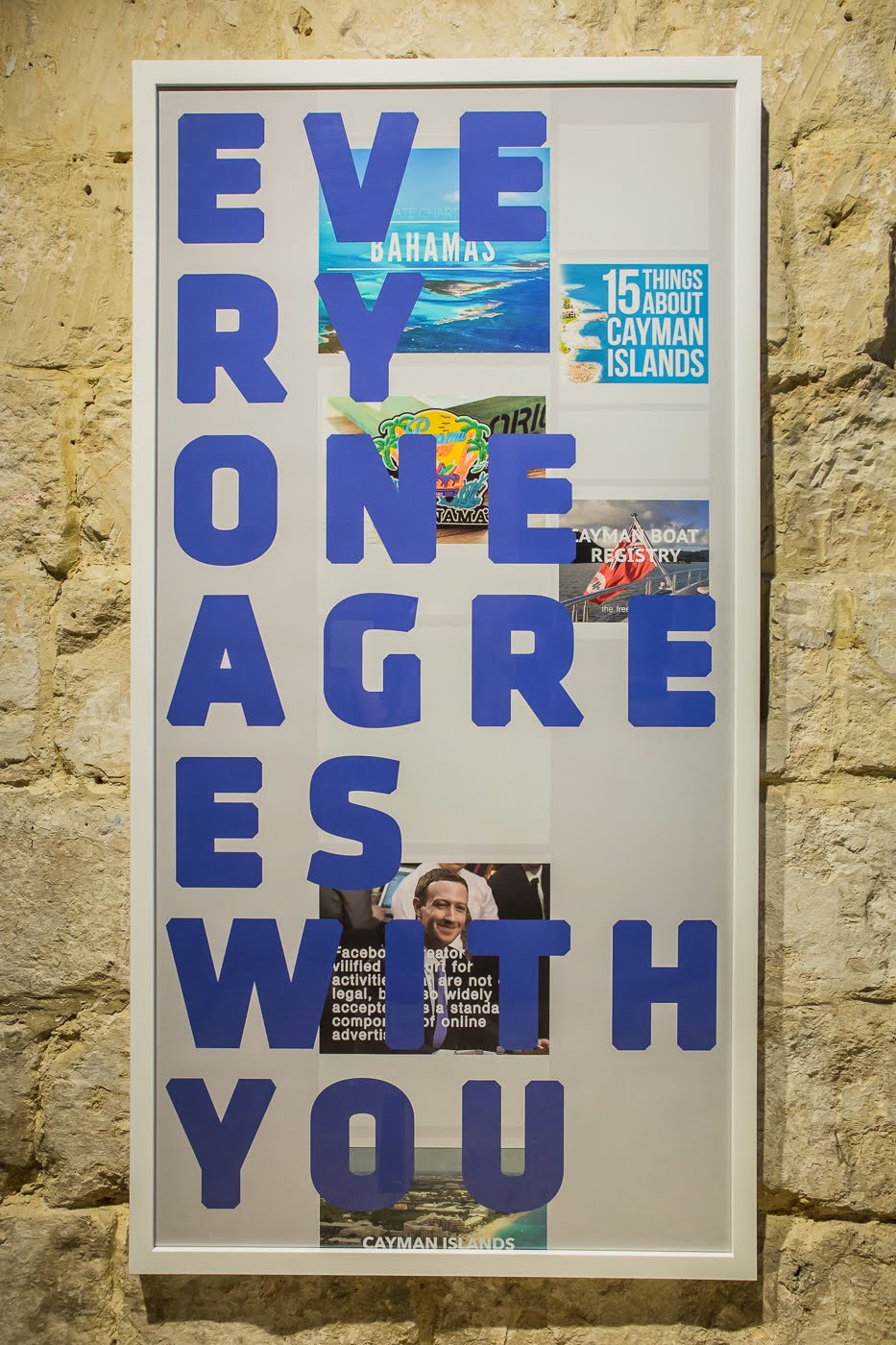 a corrupt politician's FB feed.
The algorithms know who you are.
Shown@ Daily Bread @ Gabriel Caruana Foundation, BKR, MT

170x60 cm, framed (unique) - 800 €
This work materialises online browser data via a receipt printer, finding an analogy in consumer transactions. Our browsing data is increasingly being transformed into a commodity that is bought and sold by big businesses, instead of its original use as a record of private online activity for our own use. Our browser history is where the mind is manifested. These same inscribed manifestations are also valuable consumer data, traded for marketing and surveillance purposes. Google receipts materialises digital non privacy by printing out each line of the artist's browser history every day for the duration of the exhibition to be viewed by anonymous strangers – free of charge.
Receipt printer / Raspberry PI 3 / Thermal paper with printed personal browser history from the time of exhibition - 5/5/19-16/06/19
(30 cm x 15 cm x 150 cm)
Shown@ Object, Objetc, Objecc, Spazju Kreattiv, MT
Full work - 800 €
Printed browser history rolls - 200 €
Google Receipts (2019)
Flawed Object (2019)
HD video 2:15 min single channel
A broken screen makes visible this mediative device that lies between the machine's output and our eyes; its failure to act as a transparent window renders this role visible, making us aware of our cognitive immersion into a digital realm. Similarly, damaged glasses remind us that there is a (now flawed) intermediary between us and the visual world. Eye floaters are reminders that our eyes themselves are a sometimes flawed medium through which we experience the world. No visual perception is received in a pure form, we must utilise a number of filters to have a visual experience. This work looks at imperfections in visual transmissions and the subsequently increased visibility of the mediating technology.
4.5 " mobile, 7" tablet, USB cables,

UV printed chiffon fabrics
(2.40 m x 160 cm), Metal polls (1.6 m x 2m)
HD video 2:15 min single channel

(size 3.20 x 2.60m x 10 cm)



Shown@ Object, Objetc, Objecc, Spazju Kreattiv, MT
Full work - 1800 €
Video (Unique) - 500 €
> > Contact < <
Cognitive Services (2019)

Image recognition, misrecognition and again creation by wild commercially available algorithms.
Created via processing and recognising images of the artist in text, then exporting text to text-to-image algorithm.
Shown@ Object, Objetc, Objecc, Spazju Kreattiv, MT
Print on Aluminium 40 x 50 cm (unique) - 450€
Print on Aluminium 30 x 20 cm (unique) - 200€
Print on Aluminium 20 x 15 cm (unique) - 120€
2029 Harbour Sounds.pdf (2017)

The work consists of an archived log book from the year 2029. As evidence of a transformed island-society, it gives clues on the general state of society and the island, when subtly focuses on diminished crops and their lucrative trade. It's a detective story without a clear crime scene.
Shown@ Archived Futures Harvest (an archive, a miscellanea of documents and objects that have supposedly ori
ginated from the near or far future.), Studio Solipsis, Rabat, MT